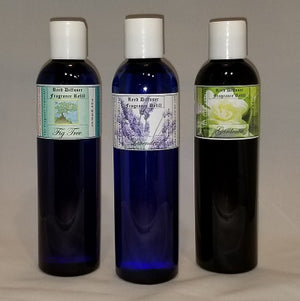 Reed Diffuser Refill Oil
Sale price Price $16.00 Regular price
Reed Diffuser Refills provide 6-8 months of enjoyable fragrance!   These refills are designed for use in any brand of reed diffusers.  Select from our assortment of fresh, sophisticated and seasonal fragrances.  
Our refills are oil based.  We use an oil carrier that is actually thinner than water.  It is completely unscented & cosmetically grade.   We use up to 30% fragrance in each of our refills, which gives them their longevity.   (much higher percentage than in store-bought reed diffusers) 

If you have any questions regarding our products, we are glad to answer them.  It may be difficult to buy a fragrance just by its name.  Our goal is to produce the most accurate & enjoyable fragrances.   Please don't hesitate to send us a message.
8 oz. bottle.
Many of our customers already have purchased the reed diffuser set, and simply need more fragrance.
If you've crossed paths with us at arts & craft shows, you've had the chance to experience our fragrances.  We're always glad to send you more!