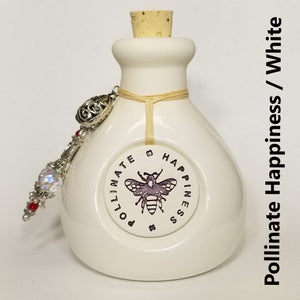 Bottea Fragrance Diffuser
Sale price Price $17.95 Regular price
Clay Fragrance Diffusers are perfect for providing a delicate fragrance in bathrooms, bedrooms…anywhere they are placed. Handmade from earthenware clay, that remains porous after firing. Can be used with essential oils or fragrance oils. Perfect diffusers to provide benefits from aromatherapy oil blends    Perfume Pot  Essential Oil Diffuser   Scent Pot
Easy to use. Simple instructions included.

When used with a small amount of essential or fragrance oil, they become decorative diffusers, and provide a delicate fragrance wherever they are placed. Ideal for powder rooms, bedrooms ~ in any space a delicate fragrance is desired. 4.5" diameter x 4.5" H 

All the pieces are hand-dipped in glazes. A portion of the decanter always remains unglazed. It is through the unglazed portion, where the fragrance emits and scents its surroundings. 

Because our clay items are handmade from natural materials, there may be slight variations. (sometimes simply their placement in the kiln will affect glaze characteristics). We strive for uniformity, but if you're not absolutely pleased with your order, we'll be glad to exchange it.